We spend a great deal of time caring for our children, making sure their seatbelts are buckled, keeping them warm in winter, keeping them well-fed and happy. We tuck them in with a kiss goodnight, relieved that they are safe for another good night's sleep and the promise of a new day ahead. But, you might be shocked to hear that their soft, pillowy bedding isn't the safe haven you thought.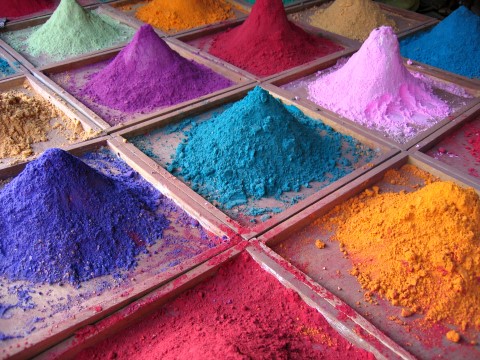 Kids' bedding can contain largely-unregulated toxic dyes
Did you know there are substances in the products we use which are known to be harmful, but either aren't yet regulated or aren't prohibited by law?
Chemical finishes are applied to textile products to give them "desirable" properties, whether to make them wrinkle-resistant, soften them, made them flame-retardant, to bleach them white or to dye or print them to enhance their appearance.
These chemical finishes, including some textile dyes, can cause problems ranging from headaches, nausea and fatigue to much more severe concerns like breathing difficulties and even seizures. In children, you would see symptoms like red cheeks, dark circles underneath their eyes and even behavioural or learning difficulties.
The textile dyes that have come to the media's attention in recent years because of ACCC investigations into azo dyes. Azo dyes are an example of chemicals that are classified by experts as carcinogens and yet aren't banned for textile use in Australia. In fact, there have even been recalls of particular items of clothing and pillowcases that contained azo dyes.
Why? Well, some azo dyes can release aromatic amines, a chemical compound that the body can absorb through increased body heat, perspiring skin and saliva, in instances of direct and prolonged contact. This compound has been linked to pancreatic and bladder cancer.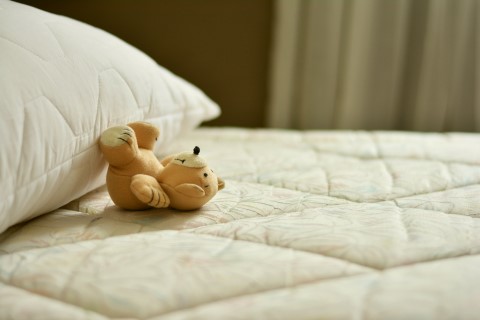 Why should we be so concerned with kids' bedding in particular?
Now, bedding seems innocuous enough. After all, it provides warmth, physical comfort and even emotional comfort, but it also has direct contact with our kids' skin. Being smaller than adults, children have a greater skin surface area, which gives them the potential to absorb more toxic substances topically than adults. That's a scary fact.
And as for the chemicals our kids are exposed to, they can't remove them from their bodies as well as adults can. Alarmingly, they are also more susceptible to absorb higher amounts of some chemicals into their blood – like lead for example.
According to sleep researcher and psychologist, Dr Sarah Blunden, toddlers need between 12-14 hours of sleep every day, while primary school children need between 10-12 hours daily. That means kids spend almost 50% of the time in their bed.
But, of course, kids aren't in their bedding only while they're asleep. They might be cuddled up with their favourite pillow or blanket on the couch, or sitting on their bed reading a book. So, it's possible kids spend even more than 50% of their time surrounded by their bedding. That's a huge amount of time they are potentially exposed to harmful chemicals within their bedding.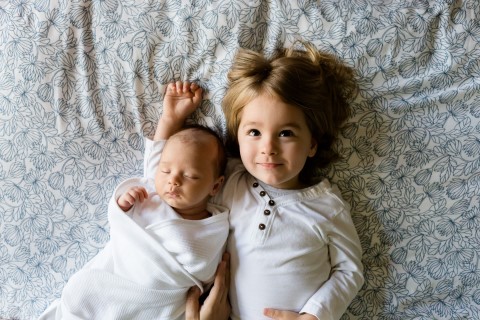 What can you do to ensure your kids have safe bedding?
The first thing to understand is that there are safe bedding options available to you and your family within Australia. Paying attention to labels and seeing if the bedding has received the appropriate safety certifications is key. Organic labels are tempting but there is more to this than meets the eye. Let's take a closer look so you can choose your kids' bedding with confidence and armed with the right information.
Finding truly organic bedding for your family
Wriggly Toes bedding complies with the world's two biggest independent standards: Global Organic Textile Standard (GOTS) and Oeko-Tex Standard 100. If you're shopping for safe textile products, you can check for these certifications yourself on any product labelling.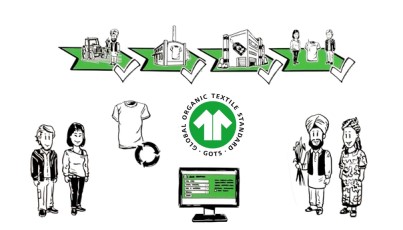 Global Organic Textile Standard (GOTS)
GOTS defines requirements that are recognised worldwide to ensure textiles have organic status. This means the raw materials are grown and harvested without exposure to pesticides and fertilisers, and they are manufactured in an environmentally-responsible way. But, you can also take comfort from knowing that they have been farmed and produced in a socially responsible way with ethical labour.
To complete the life cycle, from growth, right through to final production, GOTS ensures that the product is not only organic but also free from any toxic residues, thanks to stringent criteria. It is the overarching "green" standard that every organic textile should have and ensures the azo dyes we mentioned earlier are not in the finished product.

Oeko-Tex Standard 100
Oeko-Tex Standard 100 is a worldwide independent and consistent certification system for finished textile products. Testing is conducted on a purely scientific basis and is carried out by the reputable German Hohenstein Institute. To receive certification, every single part of the article must meet the criteria – sewing threads, buttons and prints included! It's a clear Standard, certifying a product is safe for use in terms of the toxic residue component only.
It's important to note that while we have obtained this certification for our organic cotton bedding products, Oeko-Tex Standard 100 applies to any fibre, so it particularly useful to look for when a product cannot be certified as organic (as with a synthetic or leather product for example).
Oeko-Tex certification works to different levels of human-ecological requirements, based on the intended use of the products. According to Oeko-Tex:
The more intensively a textile comes into contact with the skin (and the more sensitive the skin), the higher the human ecological requirements to be met.
Significantly, those products for babies and toddlers of up to three years are in Product Class 1 – the strictest testing class. That includes bed linen. Bedding for other age groups falls under the next strictest class – Product Class 2. You can take comfort that the certification system acknowledges and bases its criteria on the fact that the skin of babies and children is more sensitive, as the skin's protective mechanisms haven't fully developed.
Buying textile products for your kids, like bedding, is a more transparent process, made easier and safer when you look for Oeko-Tex Standard 100, but particularly the GOTS certification on the product's labe
Products like Wriggly Toes bedding are ideal because they are certified to both GOTS and Oeko-Tex Standards – the ultimate combination ethically, and for safety.
Why does Wriggly Toes choose certified organic cotton?
As well as being natural, soft and easy to clean, organic cotton is also breathable and naturally-absorbent, while being-non-irritating for sensitive skin.
We believe GOTS-certified organic textiles are crucial for raising your children in the warm Australian climate.
What are the key takeaways for buying safe bedding for your kids?
Buying organic is admirable– environmentally and socially-speaking. But, are you really getting the product you think you are?
Buying GOTS-certified and Oeko-Tex certified is better. You can be confident that your kids' bedding will be free of toxic substances based on human-ecological requirements suited to them.
Every parent wants the best for their child. You and your kids can sleep easy knowing they will be safe tonight with GOTS certified and Oeko-Tex certified bedding.
Want to meet the adorable Wriggly Toes crew? Come and visit our kids bedding sets.